The 'Blood Oaths' for the 1st? 2nd? and 3rd?
'Jubela, Jubelo, Jubelum'
"that my throat had been cut across, my tongue torn out, and my body buried in the rough sands of the sea, at low water mark, where the tide ebbs and flows twice in twenty-four hours, ere I had been accessory to the death of so good a man as our Grand Master, Hiram Abiff!"
"that my left breast had been torn open and my heart and vitals taken from thence and thrown over my left shoulder, carried into the valley of Jehosaphat, and there to become a prey to the wild beasts of the field and vultures of the air, ere I had conspired the death of so good a man as our Grand Master, Hiram Abiff!"
"that my body had been severed in two in the midst, and divided to the north and south, my bowels burnt to ashes in the center, and the ashes scattered by the four winds of heaven, that there might not the least track or remembrance remain among men, or Masons, of so vile and perjured a wretch as I am; ah, Jubela and Jubelo, it was I that struck him harder than you both. It was I that gave him the fatal blow; it was I that killed him outright;"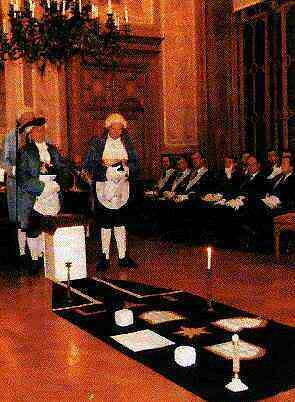 THE OATH OF THE MASTER MASON
Furthermore: I do promise and swear that I will support the Constitution of the Grand Lodge of the (Can't go here), also all the laws, rules, and edicts of the same, or of any other Grand Lodge from whose jurisdiction I may hereafter hail; together with the by-laws, rules, and regulations of this or any other Lodge of which I may become a member, so far as the same shall come to my knowledge.

I do promise and swear that I will answer and obey all due signs and regular summons sent me from the body of a just and duly constituted Lodge of Master Masons, or handed me by a worthy Brother of this degree, if within the length of my cable-tow.

I do promise and swear that I will help, aid, and assist all poor and distressed Master Masons, their widows and orphans, they applying to me as such, I finding them worthy, and can do so without material to myself or family.

I do promise and swear that I will keep the secrets of a worthy Brother Master Mason, when communicated to me as such, as secure and inviolate in my breast as they were in his before communication.

I do promise and swear that I will not give the Grand Hailing Sign of Distress of a Master Mason, except for the benefit of the Craft while at work or for the instruction of a Brother, unless I am in real distress; and should I see the sign given, or hear the word spoken, I will hasten to the relief of the person so giving it.

I do promise and swear that I will not give the substitute for the Master Word in any other way or manner than that in which I receive it, which will be on the Five points of Fellowship, and at low breath.

I do promise and swear that I will not wrong, cheat, nor defraud a Master Masons Lodge, or a worthy Brother of this degree to the value of anything, knowingly, nor suffer it to be done by another, if in my power to prevent.

I do promise and swear that I will not knowingly strike a Brother Master Mason, nor otherwise do him personal violence in anger, except in the necessary of myself, family or property.

I do promise and swear that I will not have illicit carnal intercourse with a Master Mason wife, widow, mother, sister or daughter, nor suffer it to be done by another if in my power to prevent.

I do promise and swear that I will not be present at the initiating, passing, or raising of an old man in dotage, a young man under age, an irreligious libertine, an atheist, a person of unsound mind, or a woman, knowing them to be such.

I do promise and swear that I will not be present at the initiating, passing, or raising of a candidate clandestinely, nor hold Masonic intercourse with a clandestine Mason, or with one who has been suspended or expelled, knowing him to be such, until duly restored.

To all of which I do solemnly and sincerely promise and swear, without any hesitation, mental reservation, or secret evasion of mind in me whatsoever; binding myself under no less a penalty than that of having my body severed in twain, my bowels taken thence, and with my body burned to ashes, and the ashes thereof scattered to the four winds of Heaven, that there might remain neither track, trace nor remembrance among man or Masons of so vile and perjured a wretch as I should be, should I ever knowingly or willfully violate this, my solemn Obligation of a Master Mason. So help me God and make me steadfast to keep and perform the same.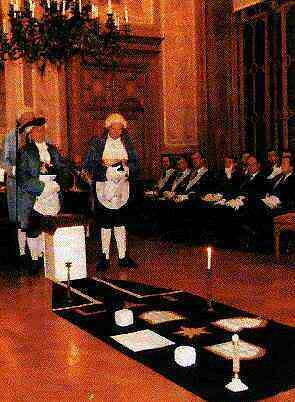 You must conceal all crimes of your brother Masons...and should you be summoned as a witness against a brother Mason be always sure to shield him...It may be perjury to do this, it is true, but you're keeping your obligations.
Ronayne
Handbook of Masonry, page 183
Membership of secret societies such as freemasonry can raise suspicions of a lack of impartiality or objectivity. It is therefore important the public know the facts. I think it is the case that the freemasons said they are not a secret society but a society with secrets. I think it is widely accepted that one secret they should not be keeping is who their members are in the criminal justice system.
Jack Straw M.P.
Home Secretary, United Kingdom
1997 Home Affairs Committee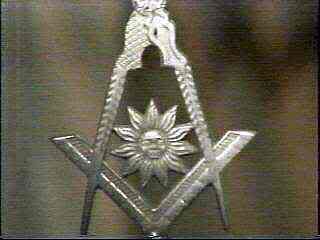 Fictions are necessary to the people, and the Truth becomes deadly to those who are not strong enough to contemplate it in all its brilliance. In fact, what can there be in common between the vile multitude and sublime wisdom? The truth must be kept secret, and the masses need a teaching proportioned to their imperfect reason.
Illustrious Albert Pike 33┬░
Sovereign Grand Commander
Mother Supreme Council of the World
THE SUPREME COUNCIL of the ThirtyThird and Last Degree
Ancient and Accepted Scottish Rite of Freemasonry
Morals and Dogma, page 103
"The first duty of every Mason is to obey the Mandate of the MasterThe order must at once be obeyed; its character and its consequences may be matters of subsequent inquiry. The Masonic rule of obedience is like the nautical, Imperative: "Obey orders, even if you break owners."
Mackey's Encyclopedia of Freemasonry, page 525
The Scottish Rite Third-Degree Master Mason Oath
This commits the occult initiate to commit murder, if necessary:
I do promise and swear upon the Holy Bible never to reveal where I have received this degree . . . and in failure of this I consent to have my body opened perpendicularly and to be exposed for eight hours in the open air, so that the venomous flies may eat my entrails, my head to be cut off and put on the highest pinnacle of the world, and I will always be ready to inflict the same punishment on those who shall disclose this degree and break this obligation. So may God help and maintain me. Amen.
Later if he 'advances' in his Masonic career he will learn the secret identity of the God of the Lodge.
Freemasons have traditionally answered their critics in one of two ways:
If the critic is not a Freemason, his criticism is dismissed. Freemasons say he could not possibly know the truth about the society because he has never been a member.

If the critic is a member which has left the society, Freemasons dismiss his criticism by saying that, for some unknown reason, he has developed a hatred against the society. This hatred not only caused him to leave Freemasonry, it has caused him to print absolute lies in an attempt to discredit and destroy the society.
A Masonic Critic
'A sinister association for political intrigues and pirates.'
33┬░ Freemason Aleister Crowley on Freemasonry
Jack and Jill went out to kill
For things they couldn't altar
Jack fell down and lost his crown
And left a baby daughter
"The triumph of the Galilean", said the president of the Grand Orient, Senator Delpech, on 20 September, 1902, "has lasted twenty centuries. But now he dies in his turn. The mysterious voice, announcing (to Julian the Apostate) the death of Pan, to-day announces the death of the impostor God who promised an era of justice and peace to those who believe in him. The illusion has lasted a long time. The mendacious God is now disappearing in his turn; he passes away to join in the dust of ages the divinities of India, Egypt, Greece, and Rome, who saw so many creatures prostrate before their altars. Bro. Masons, we rejoice to state that we are not without our share in this overthrow of the false prophets. The Romish Church, founded on the Galilean myth, began to decay rapidly from the very day on which the Masonic Association was established".
Compte-rendu Gr. Or. de France, 1902, pg. 381
Catholic Encyclopedia - Masonry (Freemasonry)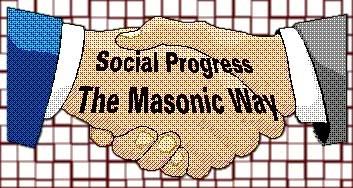 BEHAVIOUR TOWARDS A STRANGE BROTHER
You are cautiously to examine him, in such a Method as Prudence shall direct you, that you may not be impos'd upon by an ignorant, false Pretender, whom you are to reject with contempt and Derision, and beware of giving him any Hints of Knowledge.
But if you discover him to be a true and genuine Brother, you are to respect him accordingly; and if he is in Want, you must relieve him if you can, or else direct him how he may be relieved; you must employ him some days, or else recommend him to be employ'd. But you are not charged to do beyond your ability, only to prefer a poor Brother, that is a good Man and true before any other poor People in the same Circumstance.
P2 is one of more than 520 Masonic lodges which belong to the Grand Orient of Italy, the principal Masonic organisation in the country.

The lodge has been described as "a state within a state" amid allegations that it plotted to carry out a right-wing coup in Italy.
One of the most hidden secrets involves the so-called fall of Angels. Satan and his rebellious host will thus prove to have become the direct Saviours and Creators of divine man. Thus Satan, once he ceases to be viewed in the superstitious spirit of the church, grows into the grandiose image. It is Satan who is the God of our planet and the only God. Satan (or Lucifer) represents the Centrifugal Energy of the Universe, this ever-living symbol of self-sacrifice for the intellectual independence of humanity.
Sister H.P. Blavatsky
The Secret Doctrine
Pages 215, 216, 220, 245, 255, 533