I'll start with mine..
I got bored on Halloween and didn't have a costume for my doggie, so I just put an afro wig and a John Lennon sunnies on him.
This is Bhobho, he is 7 and a maltese/shih tzu mix. He's been with me since he was 2 months old. A pressie from my ex
He is very spoiled, rules the house, snores a lot, farts.. and I love him to bits!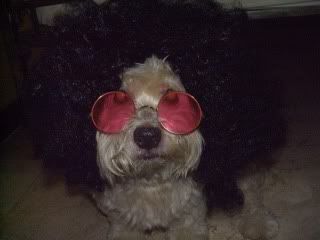 I'll post pics of my cats later on..
Please share yours..